This is a baseball toy that can be played indoors and outdoors. Let children fall in love with sports, and be healthy.
Bullet Points:
1、Automatic Ball Feeder: The automatic ball feeder can perform a variety of swing exercises and can be assembled in a few seconds.
2、Lightweight and Safe: Lightweight, safe, and harmless, the baseball uses a hollow design, light weight and humane, children play healthier and safer.
3、Ball Machine: Humanized ball machine, automatic baseball machine, no battery, internal mechanical automatic serve, from now on, one person can play.
4、Non-slip Design: Fine workmanship, non-slip design, frosted handle, no edges and corners, more comfortable for children to grasp, non-slip handle groove design, hands are not easy to slip.
5、Indoor and Outdoor: Indoor and outdoor entertainment anytime, anywhere, no matter where you are and how many people you want to play.
Features:
1. The toy is designed to improve the feel and sound reinforcement and eye coordination ability. Just step on the pedal and enter the batting position. The unit releases the ball into the strike area every time for consistent swing training. The Innovative toy is ideal for young players to learn how to become better players.
2. Durable ABS plastic structure. Automatic ball feeder for multiple swing exercises. Assemble in seconds.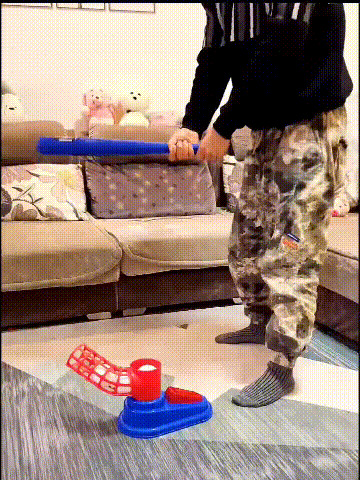 The Automatic Baseball Training Ball Launcher Machine Set is the perfect gift for any baseball player or fan. It can train your batting skills. pitching skills. fielding skills. and more. The machine has a maximum distance of 60 feet. and it requires no batteries or electricity.


When you press the button. the training toy will automatically pop up the ball. which is an excellent training aid device for your children.
Made of high-quality plastic. the use process will not cause harm to children; please rest assured to use.


Specifications:
Baseball bat size: 59*6cm / 23.19*2.36inch
Pitching machine size:45CM*18CM*25CM
Weight: 740g
Material: PVC


What's in the Box:
1x Automatic Baseball Training Ball Launcher Machine Set
1x Baseball Bat
3x Ball