Most of the time the cause for anxiety is fear of their environment or separation from their companion. As social animals, few, if any dogs, actually prefer to be left alone.
Any dog owner knows that even when they leave for short periods of time, upon your return your furry friend will respond as if you've been away for months.
So, how do we help stop these preventable anxiety attacks?
Simple: Create an environment they feel calm and safe in.
Whether they're curling up for the night or they're just taking their afternoon nap, most pets will sleep just about anywhere.
But cold, hard floors, make it difficult to get comfortable, diminishing sleep quality and worsening joint pain, leading to less than optimal health and behavior.

Proven To Ease Anxiety - The natural design of our dog bed helps ground and relax your furry friends. The raised rim creates a sense of security and positively activates the nervous system, allowing your pooch to relax more easily, calm down quickly, and sleep more soundly.




Superior Comfort - Cozy, flexible, and finished with vegan faux shag fur, our Anti Anxiety Calming Dog Bed Self Warming Pet Bed is reminiscent of a mother's fur coat; Paired with deep crevices that allow your pet to burrow, animals will have full, restful sleep for improved behavior and better health.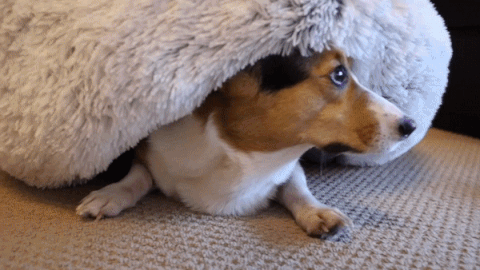 Pet-safe Materials - Tested through Consumer Product Safety Commission certified labs to ensure safety for you and your pets. Free from: flame retardants, formaldehyde, skin irritating chemicals, harsh dyes.
Non-slip Safety Bottom - The bottom of the cozy dog bed is designed with anti-skid sticky beads and high-density fabric, which is waterproof, non-slip, and mildew proof.
Machine Washable - You'll be happy with the water and dirt-resistant bottom that allows for quick and easy clean ups. When accidents happen or for routine cleaning both the pet bed and furry blanket can be tossed in the washing machine for your convenience. Follow the instructions on the label to ensure proper care.
Product Size
| | |
| --- | --- |
| S | 15.5 inches/40 cm |
| M | 19.5 inches/50 cm |
| L | 23.5 inches/60 cm |
| XL | 27.5 inches/70 cm |
| XXL | 31.5 inches/80 cm |
| XXXL | 39 inches/100 cm |
| XXXXL | 43.3 inches/110 cm |
Sizing by Breed
| | |
| --- | --- |
| XS | Chihuahua, Pomeranian |
| S | Affenpinscher, Bolognese, Japanese Chin, Maltese, Papillon, Phalène, Yorkshire Terrier, Miniature Dachshunds, Norfolk Terrier, Toy Poodle, Westie, Bichon Frise |
| M | Border Terrier, Boston Terrier, Cavalier King Charles, Fox Terrier, Jack Russell, Apso, Miniature Poodle, Pug, Miniature Schnauzer, Shih Tzu |
| L | Beagle, French Bulldog, Cocker Spaniel, Dachshund, Shetland Sheepdog, Staffordshire Bull Terrier |
| XL | Bulldog, Whippet, Basset Hound, English Springer, Kelpie, Poodle, Schnauzer, Border Collie,Australian Cattle Dog |
| XXL | Siberian Husky, American Staffordshire Terrier, Australian Shepherd, Boxer, Bull Terrier, Dobermann, German Shepherds, Golden Retriever, Labrador |
Please note - When choosing your pet's bed, we would recommend choosing a size slightly larger than your pet. If your pet loves to stretch, don't hesitate to go ahead for a bigger size.