Kids Float Vest Kids Swimming Life Jacket
A kids float vest is what your little one needs so they can move and play freely in or near the water. We all know how hard it is to leave kids all by themselves. They're always curious about a lot of things, and it's in their nature to explore it. Parents should always watch and monitor what their kids are doing. Wherever you go, don't let them out of sight and keep them close to you. Accidents can happen anytime, so parents should always be on guard. Especially when you are with your family at the beach, don't lose your attention to your child. They move fast and they tend to run wherever they go, then you'll never know what can happen. Hence, parents should always accompany them when they are in the water. Better yet, get this kids float vest to protect them from possible drowning.

Cute and Playful Designs That Kids Will Adore
This kids float vest comes in a variety of playful designs. For sure, with its cute and lovely designs, kids are going to love it! This kid's vest will give beginners the confidence that they need when learning how to swim. It will be excellent if you teach your little one how to swim. With that, they can enjoy being in the water more, instead of being at the poolside splashing some water.
Safety Buckle Snaps In The Back
This kids float vest is suitable to use at the pool, at the beach or on a boat. Above all, it's necessary to have a vest when you don't know how to swim to avoid a possible accident. As they always say, better safe than sorry. Furthermore, this vest comes with a safety buckle snaps in the back so kids can't remove it on their own.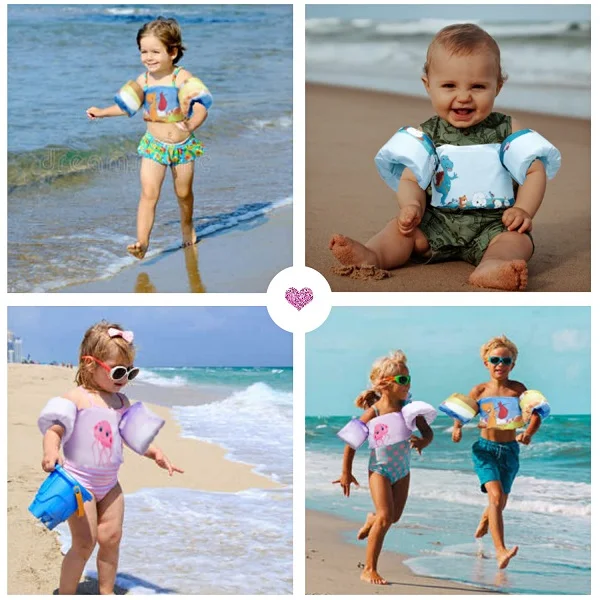 【SAFETY AND MATERIAL】This swim vest made of soft-touch polyester fiber, it can effectively prevent children's skin from being scratched. Buoyancy Core: High-quality PE foam core is used to provide buoyancy, and its buoyancy is fixed, so it is safer than inflation. Added extra durable stitching and 3x stronger seams for extra security.
【Application】 This Swim Vest is perfect for swimming training in swimming pools, lakes, beaches, etc. Swim vest for kids under 60 lbs. Infant swimming training, children's lifebuoy, children's swimming training equipment, etc.
【Safety Protection and Adjustable Buckle】Adjustable chest strap for children (22-66 lbs) with quick release rear safety buckle. The safety shoulder strap design prevents children from taking off the vest without parental assistance and prevents the vest from slipping off during use.
【Kids and parents love it】 water is always fun. Kids love to swim and appreciate our swim designed for kids to feel comfortable and a newfound sense of independence. The children enjoyed their freedom in the water, the psychological fear disappeared and they were more interested in swimming.