Stay fresh anywhere, anytime with Air Conditioner 3.0. A 3-in-1 portable air conditioner that works as an air purifier, a humidifier, and a calming 7-color LED night light.
Equipped with powerful brushless motor, Air Conditioner 3.0 efficiently purifies the dry and hot air in your space and turns it into a cool and refreshing drift of air. Just add some cold water or ice cubes and you are good to go. Unlike heavy-duty air conditioners that leave your skin dehydrated, Air Conditioner 3.0 keeps your skin moist and healthy by constantly hydrating the air around you.
So, get Air Conditioner 3.0 and always keep your cool without emptying your pockets.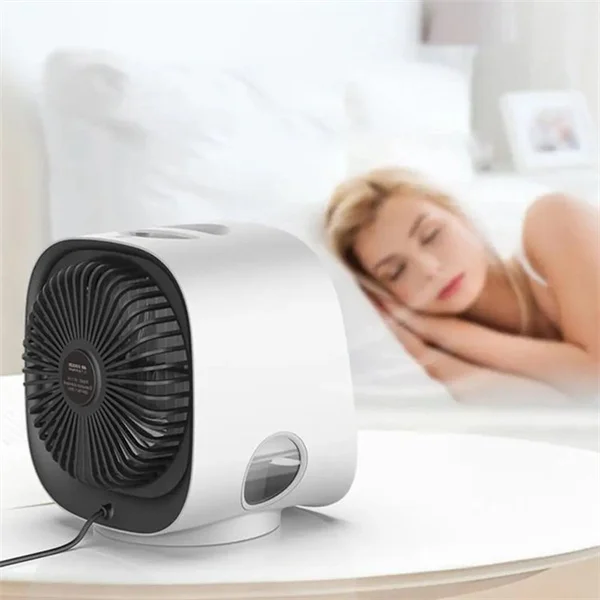 Features
Light and Compact: Air Conditioner 3.0 weighs around 500 g, making it ideal for travel. Perfect for homes, offices, and outdoor picnics, you can place it in your bedroom, living room, kitchen, work desk, car, basically anywhere.
Single Button Operation: Long press the button present on the front to turn the device ON/OFF. Short press the same button to change the fan speed. The fan works silently without interrupting your work or sleep.
Three Speed Modes: There are High, Medium, and Low-speed modes to choose from, depending on your space and requirement. You can also adjust the flow of air in any direction up to 80° to suit your needs.
USB Rechargeable: Air Conditioner 3.0 can be charged with a USB cable. You can juice it up using an adapter, a power bank, and even your laptop. Use the included USB cable for faster charging.
Premium Quality: Made with high-grade ABS, Air Conditioner 3.0 ensures sturdiness and durability. The water reservoir holds up to 500 ml of water. Provided with handle design, pretty easy to move.