Wireless Pet Camera
Radinnoo 1080p Cute Cat Security Pet Camera not only helps you protect your homes and pets but also provides you and your loved ones enough security. It's equipped with multiple features such as Motion Detection, Night Vision, and Two-way Audio. As smart home products, our pet camera wants to bring you into the High-tech ocean.
Radinnoo 1080p Cute Cat Security Pet Camera is your solution to remote monitoring! The sleek compact design and brilliant features will allow you to capture all the moments in your place instantly.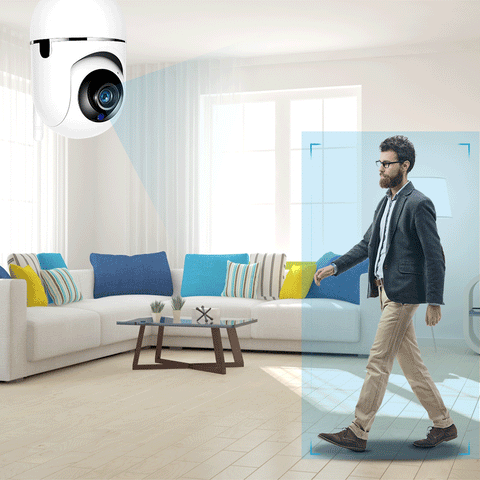 85° wide-angle advanced glass lens combined with 355° horizontal & 120° vertical rotation range create a complete 1080P High-Definition Resolution 360° Panoramic coverage without blind zone with using the advanced H.264 High Profile compression technology, which can be the lowest code rate and HD image. You can also use it for video recording fast forward, backward and playback.
"Smart Track" function can be accurately picked up and record the activity image, Smart Security Camera camera can auto-tracking the moving object, body, pet, and center the moving object on camera always. Automatically returns to"pre-setting location" to guard the object after 10s when nobody appears or moving.
Radinnoo Pet Camera always keeps an eye on things that are important to you. The camera will send notifications to your smartphone alerting when, where, and what movement was detected.
Features two-way audio allows you to have smooth stable conversations through the App, wherever you are.
Radinnoo Security Pet Camera can achieve 33ft night vision fully protect your room even in pitch dark. It also can be used for shops, meeting room, pets, nanny, elder monitor.
Safe and Reliable Wi-Fi connectivity or 4G to access your camera with YCC365 App. Built-in Wi-Fi band supports 802.11b/g/n 2.4Ghz (**5Ghz Not Supported). Local backup supports MAX up to 128GB Class10 microSD cards with FAT 32 format. Cloud Storage with 30 days of free trial. Note: SD Card Not Included
HOW TO SETUP THE CAMERA
1. Download and Install the App
Make sure your mobile device is connected to the network properly (Wi-Fi)
For Android phones, download the free app by searching "YCC365" in "Google Play Store" or scanning the QR-Code on the camera package.
For iPhone or iPad users, download the free app by searching "YCC365" in "App Store" or scanning the QR-Code on the camera package.
2. Connect the Camera
Open your APP, register a new account or log into your old account
Add the camera device (You can choose four ways to add your camera)
FAQ
1)Do I have to buy cloud storage service?
Radinnoo 1080P Security Pet Camera has cloud storage and ordinary card storage capabilities If you do not want to buy cloud storage, you can insert an sd card for recordings.
2)What can we do when the camera be stolen?
Do not worry, Radinnoo Smart Security Camera comes with cloud storage capabilities. The video will be stored in the cloud server. In case the camera was stolen, the videos could be found by cloud storage account.
3)Does cloud storage camera can support recording for SD Card and cloud storage at the same time?
Yes. Support SD Card and cloud storage recordings at the same time if you put SD Card and purchase cloud storage service
Product Details