Seeding Square, the square-foot seeding template helps you maximize growth in limited space. The concept is inspired by the popular gardening method: Square Foot Gardening, whereby seeds are sown in specific positions within a square foot, allowing enough room for each to grow to maturity without wasting space.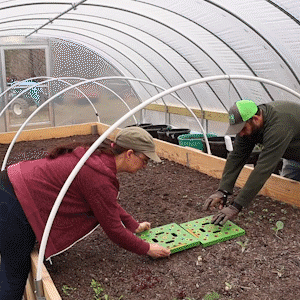 🥕HELPING YOU GARDEN BETTER🥦 We help people grow high-density vegetable gardens with confidence. Seeding Square, our seed spacing template - is inspired from the popular Square Foot Gardening method, is fun for all ages, and turns anyone into a master gardener! So, get ready for a truly impressive crop of home-grown vegetables.
🍉SPACE SEEDS PERFECTLY🥒 Plant your garden with ease and watch the sprouts emerge straight and tidy. Sowing seeds (and seedlings) with the optimal amount of space allows gardeners to grow a large harvest from a small garden. Bonus: Maximized spacing = less exposed soil = less water evaporation = a lower water bill.
🧅SPOT WEEDS EASILY🌶️ Using Seeding Square organizes your garden like a dream and is a time-saver for weeding – because perfect interval spacing of plants make weeds easy to spot, and maximized spacing leaves less room for weeds.
🍓THREE SIMPLE STEPS🥬 1.) Press the Square into the soil. 2.) Poke the color-coded holes. 3.) Plant your seeds. That's it…just don't forget to water! Bonus: The 1" side walls of Seeding Square leave behind an impression in the soil, which creates a "garden grid" helping you line up the next press, and the next …yup, we thought of everything!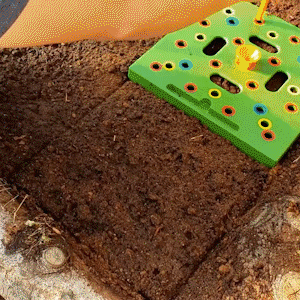 🌽BUILT TO LAST🍅 As fellow gardeners we made sure our garden spacing tool kit is durable. So go ahead and jump on it, wash it, and hang it as a piece of art if you like! Crafted from premium grade ABS plastic - buy it once & you'll be planting for years to come. We hope you'll share your amazing garden with planting day.
Each seed and seedling is planted with precision spacing
You don't need to know that lettuce needs six inches of space, or that peas need three... All the spacing needs of every type of plant are done for you with Seeding Square's fun to use a color-coded template.
Precision spacing of each and every plant means good things for you!
Perfectly organized plants

Weeds are super easy to spot

Less room for weeds means less weeding for you

Less water is needed (less exposed soil = less evaporation)

Get 2-5 times the yield (compared to traditional row gardening)
👉Let's the sum that up...Using Seeding Square on planting day saves you time and money through the entire growing season, and gets you a lot more vegetables at the end of the day!
Great for all ages and experience levels... and all sizes of the garden!
If you want to grow vegetables, this is the garden tool for you! From beginners to seasoned pros, Seeding Square is the tool that spaces seeds and seedlings perfectly. Great for all types and sizes of garden, including:
backyard garden
classroom garden
community garden plot
garden boxes
raised garden beds
Pro tip: to reduce your planting time with a larger garden, we suggest getting a second Square so you can "leapfrog" them as you go.
Seeding Square Includes:
Color-Coded Seeding Template (one square foot)
Planting Guide/Instructions (double-sided, thick card stock)
Magnetized Dibber with depth markings and Seed-Spoon
Funnel that clips onto the back of the template