This is

how to get rid of deer and rabbit Easily & Effectively in 48 Hours

We're all tired of getting rid of deer coming into our yard, garden and house. they ruin the gardens we worked so hard on. This revolutionary Ultrasonic deer Repeller protects any open area in a garden that receives unwanted visiting animals. Motion-activated technology delivered 2.5s of ultrasonic waves, which are just enough to scare the animal away without hurting it.

The unit emits sound waves at a frequency that is only audible to Animals. Keep deer and unwanted pests out of your garden. Ideal for protecting lawns, bird feeders, flower beds, ponds, and pathways.
BENEFITS
GET RID OF DEERS IN 48 HOURS
Motion Sensor PIR: Once animals enter the protection range, the PIR sensor starts to work, then it will emit ultrasonic waves(Humans can't hear) and the red light will be turned on so that it repels the animal. will trigger at an angle of 110 degrees and 20-25 yards distance range, for maximum performance, Get Rid of deers, Snakes, Bears, foxes, raccoons, mice, skunks, squirrels, and more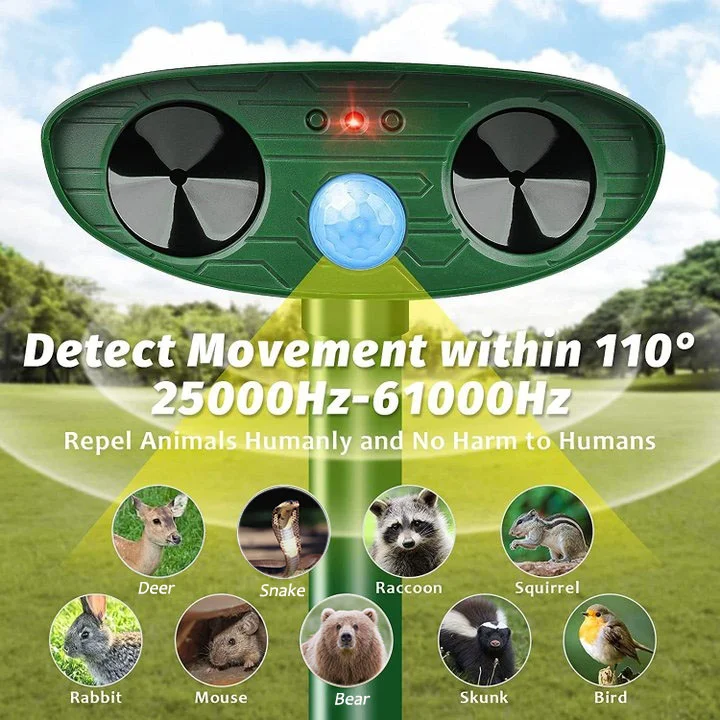 WATERPROOF AND DURABLE
Naturally drives Deer and other animals out without killing them. Made of anti-UV and waterproof material, suitable for all weather conditions.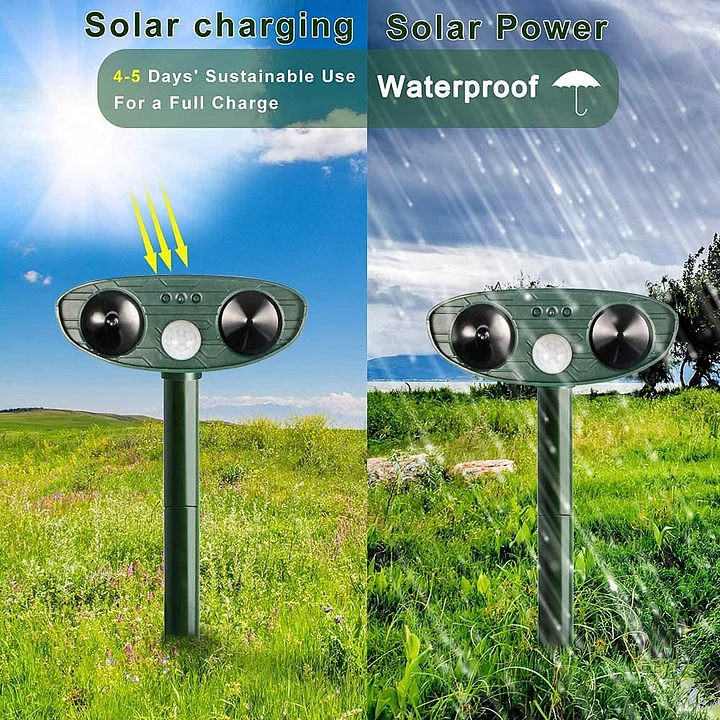 ENERGY-SAVING
Powered by solar energy with a solar panel on the top of the device, cordless and rechargeable, high efficiency, and low power consumption.
CAN BE USED EVERYWHERE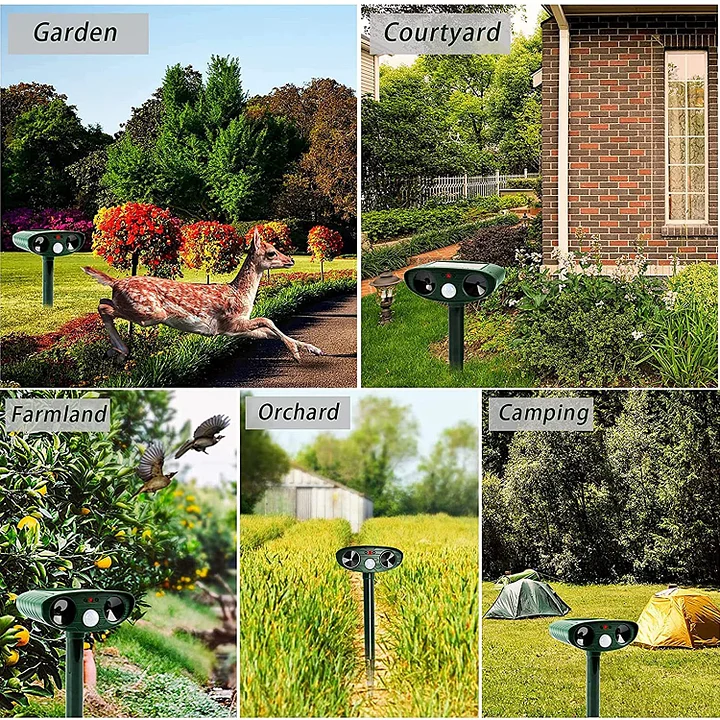 Features
PIR can detect motion within a 30ft (9.14m) radius.
Double ultrasonic speakers. each unit covers a 110-degree arc and a 30ft ground area.
Harmless to humans. animals. and pets.
Ultrasonic Frequency 18-40KHz.
Why choose Radinnoo Ultrasonic Deer Repellent?
Emits sound waves to repent pests and animals

Eco-friendly and solar charging

Waterproof, windproof, and sun-protective

Guard for your garden or yard

Easy to install and use.
2 STEPS TO USE

Specifications:
Product Name: Ultrasonic Deer Repellent
Product Type: Garden Protector
Material: ABS Plastic
Power Type: Solar Battery
Waterproof: Yes
Coverage area: 30 feet to 2425 square feet
OUR GUARANTEE
We aim to be the #1 provider of th