Our Uitrasonic Animal Repeller is powered by an solar charging panel and has 5 modes that use ultrasound, flash, and sound to repel invading animals. Choose the most efficient solution for you.
Now you don't have to worry about stray cats, raccoons or rabbits destroying your plants and filling your front porch with poop, and have more time to enjoy your flowers, plants, trees, garden, backyard or patio with your loved ones! You also won't suddenly bump into visitors in the room and startle each other.
【Solar-powered & Waterproof】
Never worry about the animal repellent will need a power outlet or changing batteries on the outdoor, thanks to the solar-powered design and NiMH rechargeable battery on the top part. Solar panels can effectively charge the product to maintain all-day standby. The high-grade ABS plastic construction is IP44 waterproof which is suitable for any harsh weather conditions.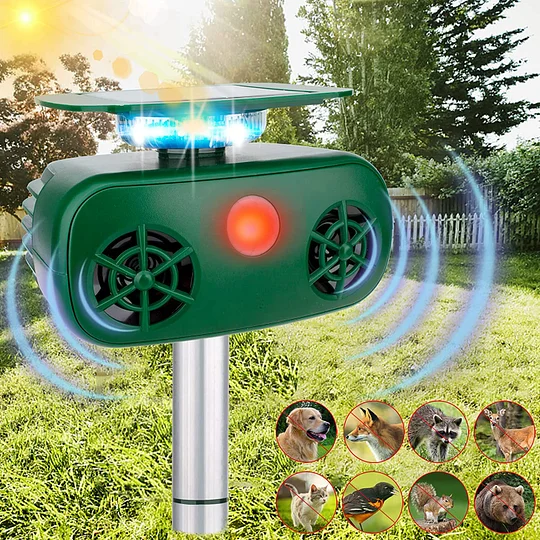 【Super Effective & Humane Design】
Solar ultrasonic animal repellent repels animals by emitting ultrasonic sound, alarm, and LED flashing light without any chemicals. The high-frequency noise and ultrasound make animals uncomfortable, do not affect humans. It's a humane way to deter mice, skunk, deer, fox, wolf, rabbit, owl, raccoon, bird, and most other wild animals so as to protect your courtyard, chicken coops, livestock, campsites, farmland, orchards, and much more other properties.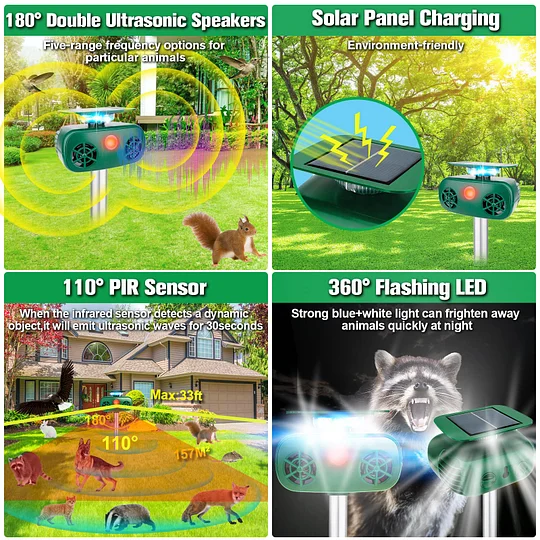 【Advanced Ultrasonic Technology】:This ultrasonic animal repellent features the most advanced ultrasonic technology which creates a powerful ultrasonic wave(15khz-50khz), accompanied at the same time by an alarm sound and 360° blue and white flash lamp. The built-in PIR motion detection sensor is highly sensitive, it will detect pest animals by the infrared sensor and activate the ultrasonic system, and will trigger at an angle of 110° and 26-33Ft distance range, for maximum performance.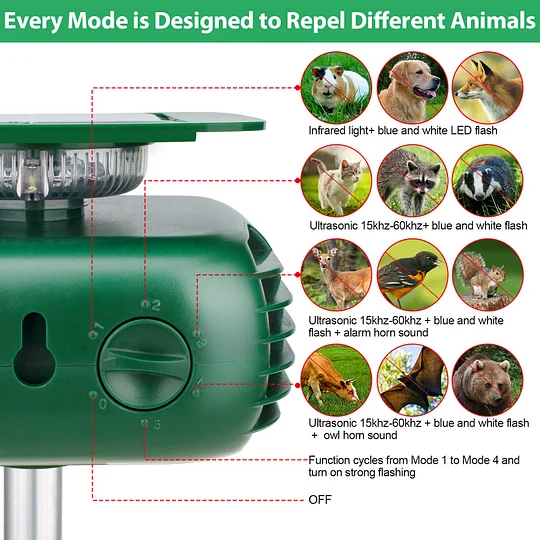 【Safe & Easy to Use】:This solar animal repeller is easy to use and set up. Forget the harmful chemical, poison, and traps typically used in households, just insert it to ground soil where there is plenty of sunlight and switch it on. Keep insert 5inches above the ground in the yard depending on the eye height of the predator you want to deter. For the best result, you can insert 1pcs pest animal repellent facing outwards in each direction to keep the predator far away.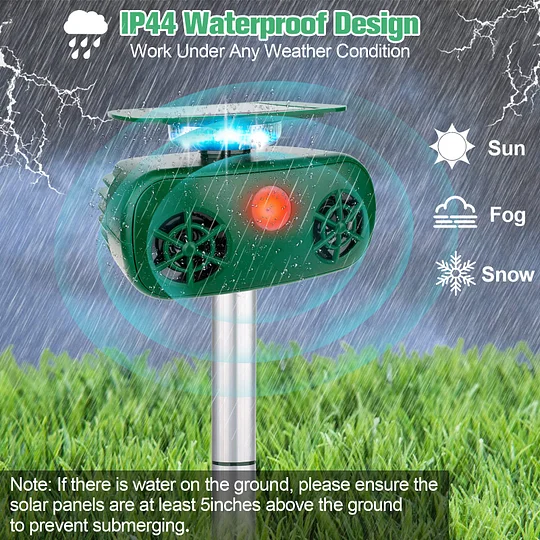 Want to keep unwelcome animals out of your garden?
Using our powered ultrasonic animal repeller is perfect for placing in gardens, yards, farms and more to scare any animals away from your area, squirrels, raccoons, skunks, dogs, foxes, birds, etc.
Alt