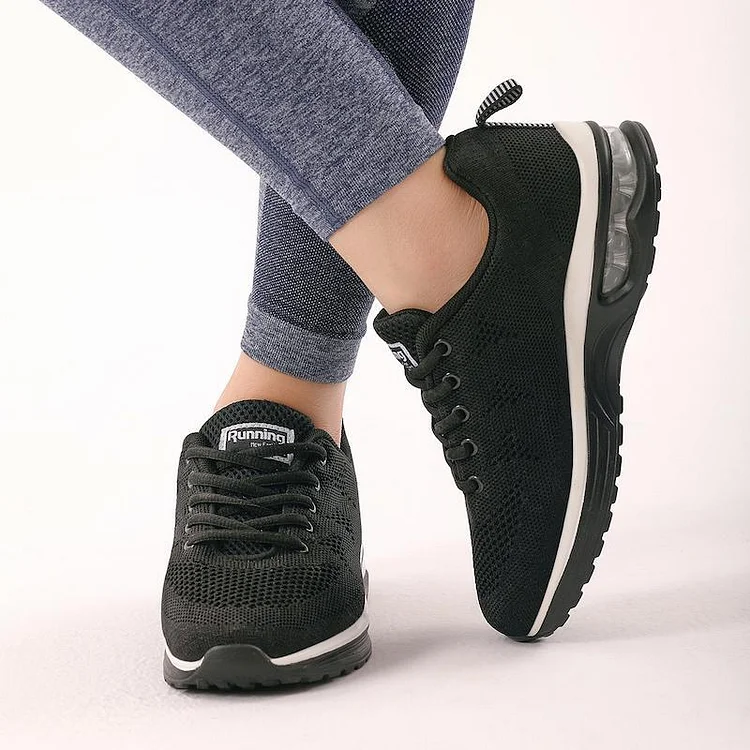 Comfort Meets Style
Air Mesh Knit Cushion Women's Sneakers are the perfect example of technology meets style!
Why Choose Omega Walk?
SAY GOODBYE TO SWEATY FEET!
When we say freedom, we mean freedom from discomfort, itchy shoe fabric, and foot odor! Durable Upper Mesh with good stretch & smooth fabric makes the shoe lightweight & breathable. It allows the foot to fit securely & provides great freedom.
AIR CUSHION TECHNOLOGY
So comfortable that you would not want to take these off ALL DAY! The classic design makes these shoes perfect for work or for those who need to stand or walk for a long time.
ENSURES SUPPORT WITH THE SOFTEST MIDSOLE
Arch design reduces pressure from the heel and ball by distributing the pressure all over the feet. It helps in reducing foot pains, prevents archers from getting harmed, and provides balance.
ENSURES MAXIMUM SAFETY
These shoes will save you from tripping! Super Light wavy MD thick sole, provides great traction and grip. Our Advanced-Grip-System offers optimal stability.
WEAR IT ANYWHERE, ANYTIME
With its optimal stability and comfort, you can wear these comfortable shoes for different kinds of athletic and non-athletic activities such as jogging, walking, playing sports, hiking, and more.
What they are made of:
Upper: Synthetic knit fiber. Designed to be breathable and airy.

Insole: PU foam. Super cushiony, like pillows for your feet.

Sole: EVA. Best-in-class shock resistance for all-day comfort.
About Orthopedic Shoes
Orthopedic shoes are shoes designed to provide maximum support to the foot and ankle. They benefit people with foot pain and a range of conditions that make walking or exercising in regular shoes difficult and uncomfortable.
Having supportive shoes can help reduce foot pain, increase blood flow, improve posture, and reduce the risk of injury. Additionally, wearing orthopedic shoes can prevent future foot problems.
While orthopedic shoes do help provide comfort for people with foot pain and certain foot conditions, they are not a substitute for the proper medical care needed. If you feel you need medical help for foot pain or have concerns, advise or visit your local GP.
Some people rely more on orthotics to help relieve discomfort and improve quality of life, but that doesn't mean they aren't right for everyone! Orthopedic shoes can also be used as a preventative measure to prevent foot problems as we age.
We understand why you're worried about blisters. We are committed to providing your body with a solid foundation. Inspired by our customers' wearing experience in various foot conditions, our experts use designs that best fit the human foot in the production of each pair of shoes to adapt to different daily activities. Plus, our insoles are super comfortable and provide extra comfort and support.